2019 Tannat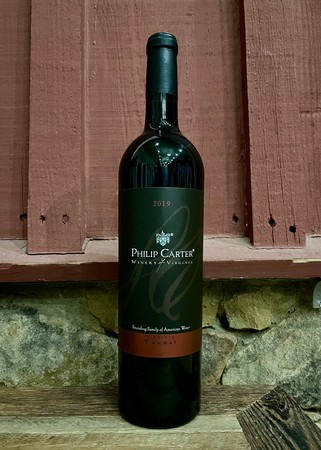 Single barrel of Tannat, selected as the top barrel of the vintage, as well as for differences in the secondary and tertiary flavors as a result of its aging in Virginia Oak. Our first vintage of a Tannat varietal, this wine showcases both the exceptional 2019 vintage and Tannat's potential as the premier variety in Virginia.
This wine presents dark red fruits on the nose, which follow through on the front palate. Full bodied, the concentrated red fruit flavors are followed by a mild feeling of sweetness and notes of vanilla on the mid palate, and finishes with a slightly tart astringency and lingering tannins. American Oak influence is apparent, but not dominating and contributes greatly to the mouthfeel and finish. An ideal accompaniment to prime rib and other cuts of beef, including hamburger.
Awards:

Silver - '21 Atlantic Seaboard Wine Competition
Wine Profile
Production Notes
109 Cases Bottled
Product Reviews
Matthew Inzeo
(Sep 7, 2021 at 3:33 PM)
This wine is very complex. There are many different scents when smelling the wine. The smells are amazing. The wine is a full body wine that provides many different and amazing favors throughout every sip. The wine is excellent. The wine is also limited and won't last long.