2020 Ten Vines Old Vine Zinfandel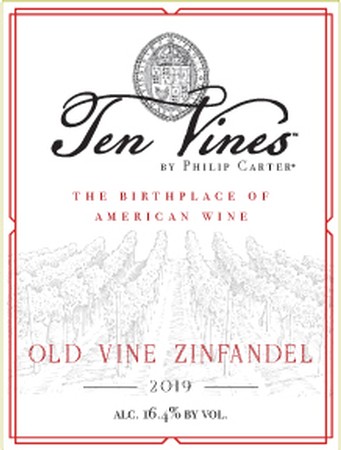 Big and Bold, this wine packs a punch. While it is extremely fruit-forward, it also has a solid backbone of American Oak and well-integrated tannins. Cherry, plum, and blackberry are the dominant tasting notes throughout, and this fruit carries through on the finish.
Wine Specs
Aging
Finished with liquid American Oak
Wine Profile
Tasting Notes
This wine is characterized by dark fruit flavors throughout. Blueberry, blackberry, and plum dominate the nose and the entire palate. The subtle influence of American Oak adds to the body of this wine, making an extremely full bodied and well-structured red. Tannins from the oak bring a subtle chocolate note in the middle of the wine.
Vineyard Notes
Grapes from Lodi, CA
Production Notes
220 Cases Bottled
Winemaker Notes
A very full bodied red made form very ripe fruit. Our Old Vine Zinfandel is a very fruit forward wine that almost jumps out of the glass with its intensity and body.
Food Pairing Notes
A rich wine that pairs well with rich, flavorful meals. Brisket, meaty sauces, and mushrooms are classic food pairings with Zinfandel. Roasted and smoked vegetables or cheeses will pair nicely as well. Subtle sweetness means the wine can stand up to slightly spicier dishes as well. Wonderful with bean or mushroom based veggies burgers.
Other Notes
Recommended Best drink/ageing timeline: Now to 2026
Product Reviews