2021 Ten Vines Red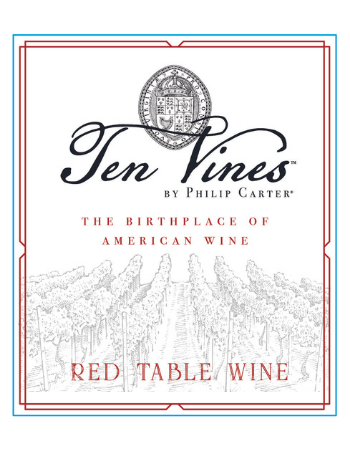 The 2020 TVR is a medium body red blend of 75% Cabernet Franc, 22% Tannat, & 3% Petit Verdot. This wine is dominated by fresh red fruit flavors throughout. Strawberry and blackberry notes are followed by currant on the finish. Inspired by Beaujolais nouveau, it is a wine intended to be drunk young. Minimal aging time ensures a lively wine with little tannin. An excellent red for the spring and summer, it is sure to please both red and white drinkers alike and it pairs very well with tomato-based sauces and heavier seafood such as tuna and salmon.
Wine Specs
Appellation
Fauquier County
Vineyard Designation
Philip Carter Winery
Aging
Four months in stainless steel
Fermentation
T-Bins with no maceration
Wine Profile
Tasting Notes
Lively young red wine with bright acidity. Lots of red fruit flavors and aromas. On the nose, cherry and cranberry are apparent and follow through to the front of the palate. Roundness on the mid palate is followed by a crisp finish and lingering acidity, with notes of red currant. Cabernet Franc dominates the blend, contributing most of the fruit notes and a slight pepperiness. Petit Verdot offers more subtle and earthy notes most apparent on the finish.
Vineyard Notes
100% Estate Grown Fruit: 85% Cabernet Franc and 15% Petit Verdot
Production Notes
245 Cases Bottled
Winemaker Notes
The first red wine bottled from the 2021 vintage. It is a young wine with a fruit forward focus intended to be drunk young. With the lighter body, it is a wonderful wine for warmer days and summer barbeques.
Food Pairing Notes
Due to its youth and crisp acidity, this wine pairs best with complimentary dishes with lots of richness and savory characteristics. Duck and beef are excellent pairings, especially when prepared over an open flame. Pulled pork and barbeque in general will be wonderful. Gorgonzola, brie, and other rich cheeses compliment the wine well and will reveal more subtle flavors of the wine. Slightly sweet dishes, like those finished with honey or fruit, will balance the wines acidity. Moderate alcohol content makes it a great companion for barbeques.
Other Notes
Recommended Best drink/ageing timeline: Now through 2024
Product Reviews
10 Vines red
(Aug 25, 2022 at 5:05 AM)
My husband loves this wine. He tried all of the wines the PCW made and raved about this one in particular. How clean and crisp tasting it is. We bought a case there and had dinner over at a friends house in ST Petersburg Florida and Poof the case was gone . 10 Vines was pared with home made spaghetti and meatballs dinner. The wine was the right flavor that just added the extra Floavor to the dinner .