Future Gift Card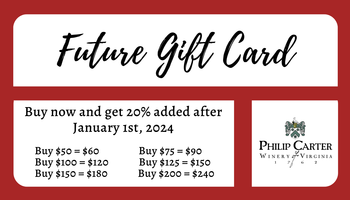 If you buy a Future Gift Card now you will get a bonus 20% added on to your card value. The card can be used (anytime after January 1st, 2024) for instore and online purchases.
Buy $50 now = $60 after January 1st
$75 now = $90
$100 now = $120
$125 now = $150
$150 now = $180
$200 now = $240
Once purchased, gift card redemption code and information will be emailed to the purchaser. Gift card code may be used in-house or in our online store.
Please note this is not a physical gift card, gift card code is sent via email.
Product Reviews